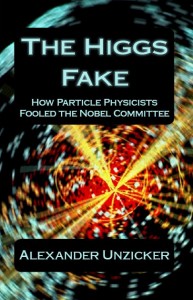 And Why It's Hard For Particle Physicists to Appreciate it
It is not particlularly surprising that my book will hardly appeal to particle physicists, and not even lay much of a basis they will wish to discuss. There is no way to convince an expert that he or she has done nonsense for thirty years.
Over the decades, high energy physicists have been hunting for ever rarer effects, just to declare as new particles everything they did not understand. Their model has grown to a nonsensical complexity nobody can oversee, thus their convictions about it rely – much more than in any other field of physics – on trust in expert opinions, one might as well say parroting. As a consequence, in any discussion with particle physicists one soon comes to know that everything is done properly and checked by many people. If you still express slight doubts about the complication, they will easily turn stroppy and claim that unless you study their byzantine model thoroughly, you are not qualified to have an opinion. But you don't have to be an ichthyologist to know when a fish stinks.
It is hard to make somebody understand something when his income is based on not understanding it. – Upton Sinclair
An obvious argument to make is that more than 10,000 physicists, obviously skilled and smart people, would not deal with a theoretical model if it was baloney, and presumably this is the strongest unconscious argument for all of them. It is a flawed argument, however, disproved many times in history. And it is inherently biased because it disregards all other physicists (probably the majority) who intuitively realized at the outset of their careers that a giant experiment involving a huge number of people was not the field where their creative ideas would flourish. Quantum optics, astrophysics and fields like nanotechnology have attracted the most talented in the past decades. No one who had a proper appreciation for the convictions of Einstein, Dirac, Schrödinger, Heisenberg or de Broglie could find satisfaction in post-war particle physics. This does not mean that all high energy physicists are twerps. Religion is said to make good people do evil things. To make intelligent people do stupid things, it takes particle physics. Many scientists, by the way, are busy fighting the religious nonsense that pervades the world's societies (let some political parties go unnamed). Intellectually, this is a cheap battle, and thus some are blind to the parallels of science and religion: groupthink, relying on authority, and trust to the extent of gullibility.
Though people will accuse me of promoting a conspiracy theory, I deny the charge. Most high energy physicists indeed believe that what they are doing makes sense, but they are unable to disentangle their belief from what they think is evidence. The more thoroughly one examines that evidence, however, the more frail it becomes. But, above all, it is impenetrable. Only the super-specialized understand their small portion of the data analysis, while a superficial babble is delivered to the public. This is a scandal. It is their business, not anyone else's, to provide a transparent, publicly reproducible kind of evidence that deserves the name.
It is no excuse that, unfortunately, there are other degenerations of the scientific method in the realm of theoretical physics: supersymmetry, and string theory which never predicted anything about anything and never will.1 It is a sign of the rottenness of particle physics that nobody has the guts to declare the nontestable as nonsense, though many know perfectly well that it is. They are all afraid of the collateral damage to their own shaky building, should the string bubble collapse. The continuous flow of public funding they depend so much on requires consensus and appeasement. However, experimental particle physics is somehow more dangerous to science as a whole, because with its observational fig leaves, it continues to beguile everybody that they are doing science instead of just pushing technology to the limits.
I don't care too much about the public money being wasted. We live in a rotten world where billions of dollars are squandered on bank bailouts, while every ten seconds a child dies of hunger. But the worst thing about the standard model of particle physics is the stalling in the intellectual progress of humankind it has caused. We need to get rid of that junk to evolve further.
 Beware of false knowledge, it is more dangerous than ignorance – George Bernard Shaw