How Particle Physicists Fooled the Nobel Committee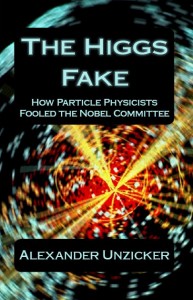 The 2013 Nobel Prize in physics was awarded very soon after the announcement of the discovery of a new particle at a press conference at CERN on July 4, 2012. The breaking news caused excitement worldwide. Yet the message conveyed to the public, as if something had happened like finding a gemstone among pebbles, is, if we take a sober look at the facts, at best an abuse of language, at worst, a lie.
What had been found by the researchers did not resolve a single one of the fundamental problems of physics, yet it was immediately declared the discovery of the century. Whether this claim is fraudulent, charlatanry, or just thoroughly foolish, we may leave aside; that the greatest physicists such as Einstein, Dirac or Schrödinger would have considered the "discovery" of the Higgs particle ridiculous, is sure. They would never have believed such a complicated model with dozens of unexplained parameters to reflect anything fundamental. Though on July 4, 2012, the absurdity of high energy physics reached its culmination, its follyhad begun much earlier.
I shall argue in my book that particle physics, as practiced since 1930, is a futile enterprise in its entirety. Indeed physics, after the groundbreaking findings at the beginning of the twentieth century, has undergone a paradigmatic change that has turned it into another science, or better, a high-tech sport, that has little to do with the laws of Nature. It is not uncommon in history for researchers to follow long dead ends, such as geocentric astronomy or the overlooking of the continental drift. Often, the seemingly necessary solutions to problems, after decades of piling assumptions on top of each other, gradually turn into something that is ludicrous from a sober perspective. A few authors, such as Andrew Pickering and David Lindley, have lucidly pointed out the shortcomings, failures and contradictions in particle physics in much detail, providing, between the lines, a devastating picture. Though their conclusions may not be very different from mine, I cannot take the detached perspective of a science historian. It annoys me too much to see another generation of physicists deterred by the dumb, messy patchwork called the standard model of particle physics that hides the basic problems physics ought to deal with.
Therefore, my opinion is expressed very explicitly in the book. It is written for the young scholar who wants to dig into the big questions of physics, rather than dealing with a blend of mythology and technology. It should demonstrate to the majority of reasonable physicists that the high energy subsidiary is something they would be better getting rid of, because it doesn't meet their standards. All scientists who maintain a healthy skepticism towards their particle colleagues should be encouraged to express their doubts, and the general public, many of whom intuitively felt that the irrational exuberance of July 4, 2012 had little to do with genuine science, should come to know the facts. Last but not least, it should provide journalists and people responsible for funding decisions with information they need to challenge the omnipresent propaganda.